Hoofdredactie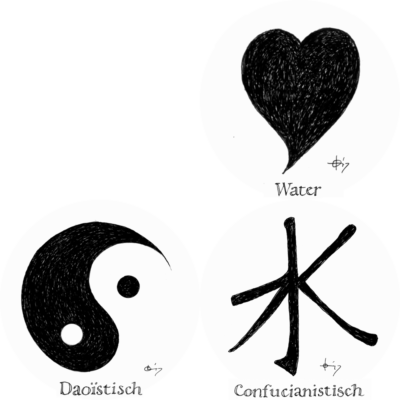 De scholen uit de tijd van de gouden eeuw van de Chinese filosofie hebben betrekking op het maatschappelijk leven, op menselijke relaties, op morele waarden en op bestuurlijke zaken.
Tevens behelzen de filosofieën de mystieke kant met als hoogste doelen het boven de maatschappelijke wereld en het alledaagse leven uitstijgen en het bereiken van een hoger niveau van bewustzijn.
Het is het ware Chinese ideaal een wijze, een verlicht mens te worden en mystieke vereniging met het heelal te bereiken. Bij de ordening van de wereld wordt van alles met de kosmos in verband gebracht: yin-yang, de vijf elementen of fasen, de vijf seizoenen, de vijf winden (vier richtingen en het centrum) etc.
Honderd scholen
Van de 'honderd scholen' van de Chinese filosofie zijn slechts het confucianisme en het daoïsme blijven bestaan. Ze hebben het al die eeuwen uitgehouden omdat ze het meest bruikbaar zijn gebleken. Het boeddhisme bereikte China in de 2e eeuw, dus eeuwen nadat het confucianisme en daoïsme zijn ontstaan.
Natuurlijk waren er in oorsprong duidelijke verschillen in uitgangspunten binnen de drie hoofdstromen te onderscheiden, maar dat onderscheid maken wordt al snel ingewikkeld omdat deze hoofdstromen elkaar zeer sterk hebben beïnvloed.
Confucianisten namen daoïstische en boeddhistische ideeën over, terwijl ze tegelijkertijd deze levensbeschouwingen verketterden en vervolgden. Het confucianisme werd in feite de staatsgodsdienst. Het confucianisme legt gestrengheid en strikte opvolging van de regels op waarbij het om de fatsoenlijke en juiste opvattingen gaat, het boeddhisme en het daoïsme propageren buigzaamheid en aanpassing aan de natuur.
Het daoïsme en Chinese boeddhisme bleven in China onafhankelijke (religieuze) organisaties ten behoeve van het persoonlijk en gemeenschappelijk heil.
De orthodoxie werd aangehangen door de confucianisten, de alternatievelingen hingen meer het daoïsme en boeddhisme aan.
Complementair en aanvullend
De denkrichtingen vormen tegengestelde polen en worden gezien als complementair en elkaar aanvullend. Zo horen daoïsme en confucianisme als yin en yang bij elkaar. Daoïsme, boeddhisme en confucianisme zijn als paradoxale mengeling binnen de samenleving te vinden. De drie van elkaar scheiden druist in tegen de Chinese geest.
Defoort, C.& Standaert, N. (2009) Tien stellingen tegen Confucius. Het pleidooi van de Chinese wijsgeer Mozi. Kapellen: Pelckmans/ Klement.
Leeuw, K.L. van der (1994) Het Chinese denken, geschiedenis van de Chinese filosofie. Amsterdam: Boom.
---
学如登山。
Xuá rú dēng shān. Leren is als een berg beklimmen.
oud Chinees spreekwoord
Paul Mercken bracht deze wijsheid in.
---
Dat leidde de hoofdredactie er toe onderstaande tekst over te nemen[1]:
Wise Chinese Sayings About Learning
Last updated: May 15, 2017
Need motivation to begin (or continue) studying Mandarin Chinese? Luckily, the language itself contains many inspiring sayings related to learning.
The history of education in China can be tracked back to the 16th century B.C. In ancient times, learning Confucianism was the most efficient way to achieve higher social status for ordinary people. Scholars had to study very hard to prepare for government tests since only the high score let them to get a good governmental job. It looks like the tradition still exists somewhat. Nowadays, Gaokao (National Higher Education Entrance Examination) is considered to be one of the most difficult pre-entrance tests in the world.
So, from Han dynasty until modern times, education was crucially important for Chinese people. Not surprisingly, the Mandarin language boasts so many proverbs and idioms about learning. I have picked 10 of my favourite expressions for you here:
The Mandarin language is full of "analogical" proverbs and idioms. Learning is compared with something that is difficult to overcome and sometimes unpredictable.
学如登山。 – Xuá rú dēng shān. – Studying is like climbing a mountain.
(Really true!)
学如逆水行舟,不进则退。– Xué rú nì shuǐ xíng zhōu, bù jìn zé tuì. – Studying is like sailing against the current: a boat must forge ahead or it will be swept downstream.
道山学海。– Dào shān xué hǎ – Learning is as high as the mountains and as wide as the seas.
Literally this means "Mountain of Dao, sea of learning". Dao is a Chinese concept signifying 'way' or 'doctrine'. To become "one with the Dao" is the object of spiritual practice in Chinese Buddhism, Taoism and Confucianism. Understanding the underlying natural order of the whole Universe that is also described as "achieving Dao" definitely requires the "sea of learning".
Here is one more old metaphor:
玉不琢,不成器。 – Yù bù zhuó, bù chéng qì. – One cannot become useful without being educated.
Literally, this old saying means "If a jade is not cut and polished, it can't be made into anything."
So, training and discipline are necessary for proper bringing up children.
Confucius was a very influential Chinese philosopher and teacher. Not surprisingly, some wise sayings about learning are attributed to him. For example,
三人行,必有我师。– Sānrén xíng, bìyǒu wǒ shī. – In a group of three people, there will always be one person I can learn from.
This quotation encourages people to learn and increase their knowledge constantly.
The Confucian canon has its core called Classic of Rites (Lijing). This collection of texts contains very important quotation:
学然后知不足 – Xué ránhòu zhī bùzú – to learn is to know one's ignorance.
This means that though learning one understands his/her ignorance. The more you learn, the more you want to know. (Study shows the need for more.)
Behind some of Chinese idioms, there are interesting legends and stories.
悬梁刺骨 – xuán liáng cì gǔ – to study hard
This idiom may be the most well explained. It originates from two ancient Chinese stories. One of them is about Sun Jing (孙敬) who studied very hard – often till morning. Since he was always afraid of falling asleep, he tied his hair to the ceiling beam with a rope. So, he woke painfully if he began to doze off.
The second story is about Su Qin (苏秦), who often studied until late, too. To keeping himself awake, he jabbed his hip with a needle.
凿壁偷光 – záobì tōuguāng – to study diligently
It literally means "to bore a hole in the wall to make use of the neighbor's light to study. Kuang Heng who lived during the Western Han period was eager to learn but his family was very poor, so he had to borrow books from other people. And not only books! Kuang Heng studied at night, so he needed a light source. Once he noticed a glimpse of light from his neighbor's house coming through a small hole in the wall. Kuang Heng then dug a bigger hole. The light that came through it let him to read and learn diligently.
Chinese people are very pragmatic. So, there are some expressions that highlight the importance of practical implacability.
学以致用 – xuéyǐzhìyòng – to put into practice what has been learned
Finally, this one is not related directly to studying. However, since so many people all over the world still think that learning is only for young people, it may be useful to remember that…
为时不晚 – wéi shíbù wǎn – it is not too late
Noot
[1] Oksana Ermolaeva is a freelance writer, editor and translator from Russia. She loves studying new languages and cultures. Her special interest is Chinese language. She owns a page on Facebook and a website about learning Chinese. Now she is also running a channel Hacking Chinese Characters at Dig Mandarin.
2018-01