Caroline Young, artwork and text
QFWF, December 26th 2019 © Source: The art of Caroline R. Young (2002), Heritage Immortals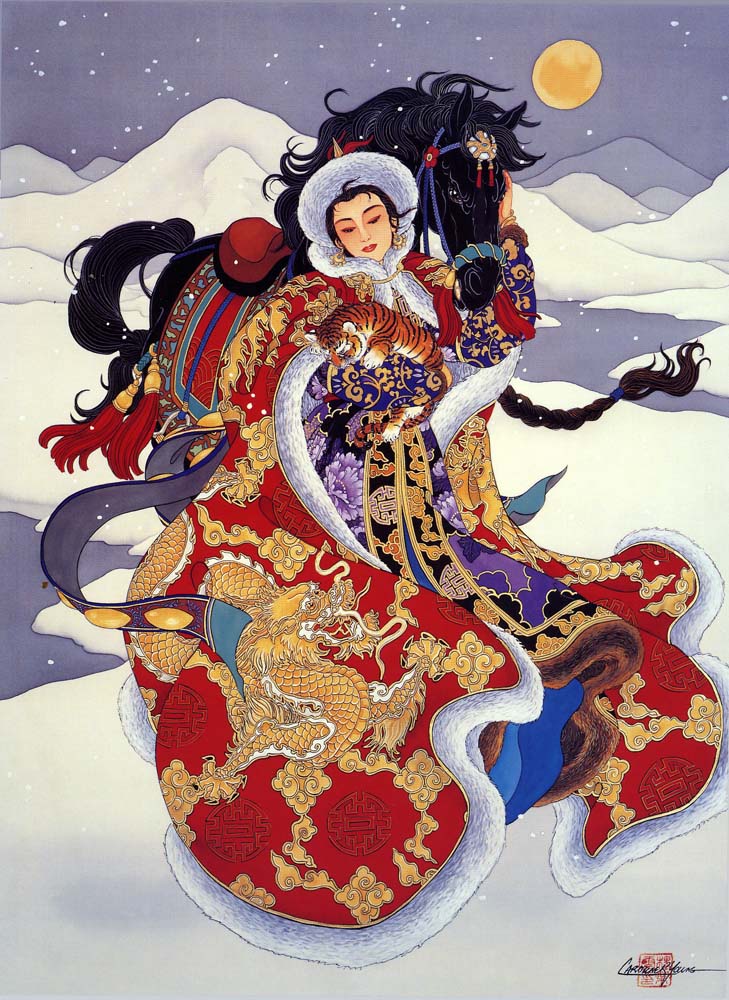 Once upon a time in China, during the reign of Qianlong, Emperor of the Qing Dynasty, there was a savage war over border disputes between China and Mongolia.
After a long and bitter battle, the King of Mongolia was killed.
It was then that Qianlong saw the magnificently beautiful Queen of Mongolia and fell head over heels in love with her. In order to keep her, he kidnapped her and brought her back to Beijing to become his concubine.
Qianlong tried to buy her love and he did everything he could think of to win her over and make her forget her husband, whom she had loved so deeply.
Qianlong had a snow-white pagoda constructed for her on the Summer Palace grounds, just to see her smile. He gave her the Imperial Jade collection, and had her quarters frequently sprayed with the finest perfumes.
Despite all of his attempts to win her love, she remained true to her husband's memory and her spirit was never conquered.
Until her dying day she never relinquished her love for her late husband.
To represent the eternal bond between the queen and her fallen husband, Caroline Young has painted the symbols of the phoenix and the dragon on her robe to depict their lasting togetherness: so that even though they are separated by death, spiritually they will always be one. Similarly, the wedding knot in the horses tail symbolizes bonds that will never be broken.
The "Fragrant Princess", as she was called, has the heroic invincible characteristic associated with the free spirit of the horse. The partly White Russian, Chinese and Mongolian "Fragrant Princess" was known as one of the great beauties of ancient China and Mongolia.