Xinnian kuai le – ξ N年快乐 – Happy New Year!
Caroline Young
Welcome to the Year of the Rabbit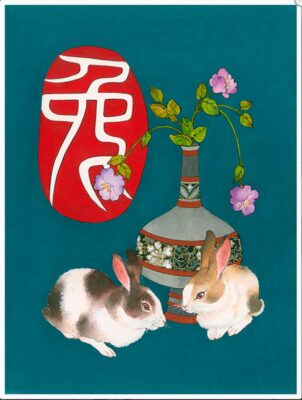 January 22, 2033, ushers in the lunar Year of the Rabbit. Created in 2637 BCE (Huangdi 4720) by Emperor Huangdi, the Chinese lunar calendar is the oldest in use today.
The legend surrounding the calendar tells of Lord Buddha, before he departed the earth, summoning all the animals of the world to his side to bid them a final farewell.
However, only twelve of the most faithful beasts came to him. As a reward for their loyalty, he named a year after each one in the order of their arrival: the Rat, the Ox, the Tiger, the Rabbit, the Dragon, the Snake, the Horse, the Ram, the Monkey, the Rooster, the Dog, and the Boar.
Many believe that the animal into whose year one is born profoundly influences one's life. People born in the Year of the Rabbit are said to be talented, articulate, affectionate, kind, and patient.
In celebration of this particular year, we have assembled a collection of originals and limited-edition prints to be made available to you for up to 40% off the regular price.
This limited-time offer is good through January 31, 2023. Highlighting the list is "Year of the Rabbit" (original painting on paper) and "Moonrising" (limited edition print), both created specifically for the Rabbit Year. For the entire roster of specials, go to:the Year Of The Rabbit Specials
May the Year of the Rabbit bring you good fortune, health, and happiness.
Gong xi fa cai, everyone!