Welcome to the Year of the Pig!
Caroline Young
This year, Chinese New Year falls on February 5, the Year of the Pig
Gong Xi Fa Cai! Da Gee Da Lee,
This means:
"I wish you good luck and hope you become wealthy and successful".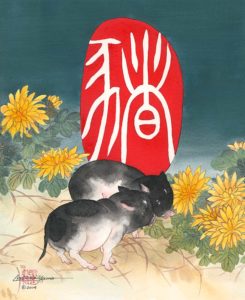 Year of the Pig (1911, 1923, 1935, 1947, 1959, 1971, 1983, 1995, 2007, 2019), see also: The Chinese lunar calendar — 4
People born in the Year of the Pig
are honest and frank in personality, with chivalrous and gallant manners,
have a calm appearance and a strong heart,
do whatever they want with strength,
are tolerant and optimistic, but not until they become your friends can their virtue, advantages and fidelity to friendship be appreciated,
are quick tempered, but hate arguments and quarreling,
are kind to their loved ones,
are not afraid of difficulties and problems but when faced with them, they try to work them out gradually, 
treat friends sincerely and do not tell lies unless they have to.
About the Chinese zodiac
The Chinese lunar calendar is the oldest calendar in use today. Created in 2637 B.C. by Emperor HuangTi, it completes its full cycle in sixty years, and is made up of five cycles of twelve years.
The legend surrounding the calendar tells of Lord Buddha, before he departed earth, summoning all the animals of the world to his side so he could bid them farewell.
However, only twelve of the most faithful beasts came to him. As a reward for their loyalty, he named a year after each one, in order of their arrival: the Rat, the Ox, the Tiger, the Rabbit, the Dragon, the Snake, the Horse, the Ram, the Monkey, the Rooster, the Dog and the Pig.
Many believe that the animal into whose year one is born has a profound influence on one's life. The Chinese have a saying:
"The animal of the year of your birth forever hides in your heart."