Hindu festivals
Nivedita Yohana
Hinduism is the oldest religion in the World. It has integrated into different sects, creeds and castes, along with their respective customs, traditions, culture and mode of worship, forming a formidable amalgam of astonishing vitality and dynamism.
The secret of Hinduism's successful survival can be traced to the imaginative and colourful celebration of its festivals by the people. These joyous occasions of festivals have a powerful impact on the faith and belief of the masses. These festivals and fairs have several ramifications in the social, economic, cultural and artistic spheres. Society gains a lot by celebrating these fairs and festivals around the year.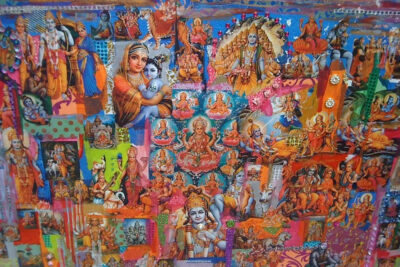 For many by now, they know India as the land of contrasts and diverse elements both in the seasons and the cultural richness within. There are as many seasons and festivals that define and give glimpses to this encyclopaedic dichotomy of emotions, sights and the changes that happen as the seasons go by.
Hinduism's successful survival against formidable odds could be the imaginative and colourful celebration by the people of several festivals, which are basically of religious significance. Over time, these festivals. Joyous occasions for celebration had powerful impact on the faith and beliefs of the masses. They served to foster communal harmony and developed a feeling of universal brotherhood. During these festivals, each with their distinctive religious undertones, people at all levels irrespective of their social and economic status.
All the festivals whether they are observed by Hindus, Muslims, Christians, Jains or Sikhs are socially and culturally significant. These festivals create a sense of cultural unity or brotherhood. They also inspire a sense of purity in our heart. India is a peculiar land of various people belong to various religions and speaking various languages. But in-spite of these diversities, India is one because festivals teach us the lesson of unity in diversity.
Five Main Seasons and Major Festivals
Vasant Ritu or Spring — flower blossoms and the calm and easy retreat of the cold over North India heralds some outdoor activities like the Kite festival and the famous Holi festival (festival of colour).
Grishma Ritu or Summer — the heat may reach some high temperature records and yet still witness high tourist arrivals in the country. There are quite many multi religious festivals like Easter, Hanuman Jayanti, Buddha Purnima, Ganga Dussehra.
Varsha Ritu or Monsoon — the rainy season which starts from June –September after the summer heat replenishes India's vast biodiversity and vegetation comes alive in exuberant greenery. Some of the festivals that start around this time are Islamic fasting month of Ramadhan, Hindu annual pilgrimage Rath Yatra, Ganesh Chaturthi and Krishna Janmashtami.
Sharad Ritu or Autumn — although there are similarities with the pre winter and autumn in India. Autumn marks the end of monsoon before starting of winter. Festivals like Navratri, Vijay Dashmi, Sharad Purnima.
Shishir / Shita Ritu or Winter — winter (September–March) witnesses at times snowfall in the cold climes of India, but a pleasant welcome from the bugging extremes of humidity and heat. Festivals like Dhanteras, Diwali, Eid-al-Adha, Christmas, Hajj Festival, Guru Nanak Jayanti among others illuminate India's diversity calendar.
Holi — festival of colour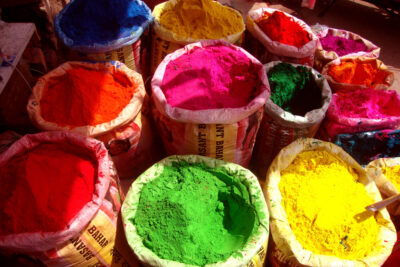 Holi ushers the spring season on the day of full moon in the month of March.
It is a social festival in which people from various regions and segments of the society join with fervour. It signifies triumph of goodness (Prahlad) over arrogance (Hiranyakashyapa) and falsehood (Holika). Bonfires are lit to symbolize burning of Holika.
This is a spring festival, during which Hindus drench each other in water and smear coloured powder on one another's faces. It commemorates the death of Holika, who, according to popular myth, plotted to kill her nephew to punish him for his ardent devotion to the great god Vishnu. (February/March)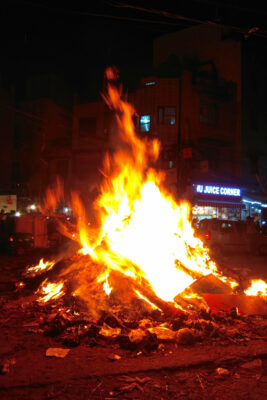 People forget and forgive past differences, hatred and petty jealousies. All that is burnt in the fire and what remains is truth, love, affection, respect and goodwill.
"Kama Dahan" — The burning of Kama (lust) by Shiva (discipline). Games depicting the pranks of Krishna are played by boys singing and dancing around the fire. Riotous crowds fill the streets, squirting coloured water on all passers-by. Everyone participates in this fun. In the Morning people visit their relatives and friends, apply colours, eat sweets and have a communal.
Janmashtami (Honor Lord Krishna)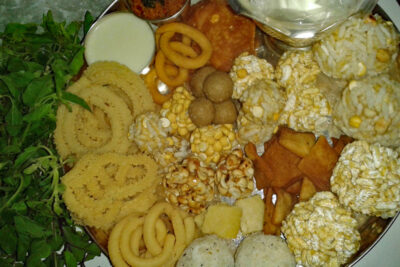 This festival celebrates the birth of the popular Hindu god, Krishna (July-August). Krishna Janmashtami — Honour Lord Krishna: on the 8th day of the half of the month of Shravana (August). Janmashtami is the birthday of Lord Krishna. Temples and homes are beautifully decorated and lit.
Parents and children create beautiful scenes from the life of Sri Krishna.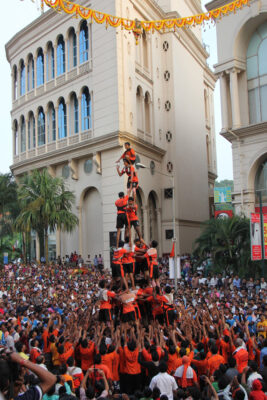 The celebrations are most remarkable around Mathura where Krishna was born.
His birthday is celebrated at midnight because he was born at that hour.
he devotees observe fasts until midnight. In many places of north India, an earthen pot containing yogurt is tied at top.
Groups of boys or girls create formations amongst themselves and climb up on one another to break the pot.
While they do this the spectators squirt coloured water on them to make it even harder. It is a spectacular event. In south Indian homes, variety of sweets and savouries are prepared and offered to Lord.
Navaratri & Dasara (Honor the Three Goddesses)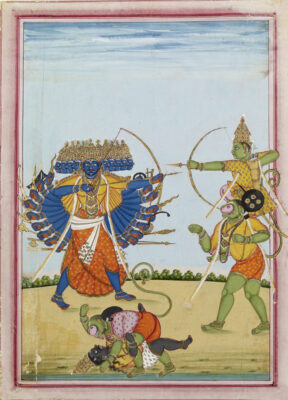 A celebration to mark the victory of the popular god Rama and his monkey army over the demon king Ravana.
Hindus also celebrate Navaratri during this period. This is the festival of nine nights.
Navaratri consists of nine days 'Nava' means nine 'ratri' means Night.
The first three days, the goddess Durga is worshipped to remove all bad qualities such as greed, jealousy, dishonesty, egoism, etc.
The next three days goddess Laxmi is worshipped, The Goddess of wealth, to acquire positive qualities such as love, compassion, charity, etc.
The last three days, goddess Saraswati is worshipped for spiritual knowledge.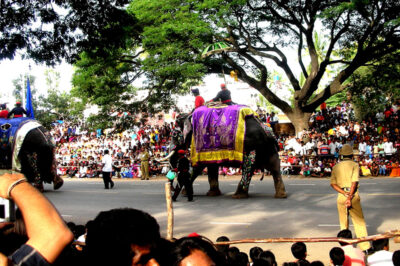 For Bengalis from eastern India, Navaratri culminates in a grand celebration dedicated to the worship of the goddess Durga. (October-November)
In Karnataka, Dasara (Dussehra) is celebrated with magnificent pomp and pageantry as caparisoned elephants lead a colourful procession through the gaily-decorated streets of Mysore, a historic city.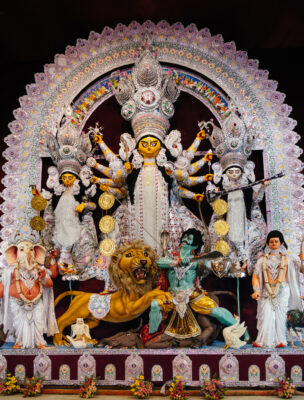 In Bengal and the East, it is called 'Durga Puja'. Images of Goddess Durga are worshipped for four days and, on the last day, taken out in a procession and immersed in a river or the sea.
The women and children of Tamil Nadu, Andhra Pradesh and Karnataka arrange dolls known as Bommai Kolu on artificial steps and decorate the steps and the nearby place with beautiful lamps and flowers.
The tenth day is Vijayadashmi — A celebration of the victory of Sri Rama over Ravana.
Deepawali (Diwali) — festival of lights a five day festival to renew, rejoice, reflect, resolve
Festival of lights ('Deepa' means lamplight and 'avali' means row). The 14th and 15th day of 2nd half of Kartika (October/ November).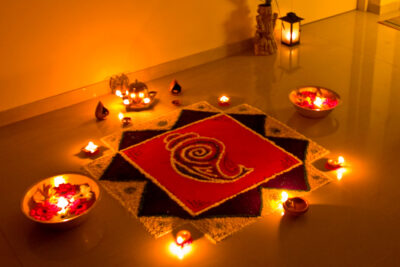 Deepawali is literally the festival of lights symbolizing the lighting of the lamp of knowledge, and removing ignorance, in our lives and in those of others.
This is the most loved festival of India. Every home is decorated with twinkling lamps to welcome Lakshmi, the goddess of wealth and prosperity. Fireworks and illumination lend colour and picturesqueness to this festival. People exchange greetings of Diwali Festival with near and dear ones by a warm hug, a box of sweets and delightful Diwali Gifts.
This festival celebrates Lord Rama's victorious return to his capital from exile. Beginning of the Fiscal year marks the advent of a new season and the sowing of new crops. Purify our ego, like the lamp, in the service of the society.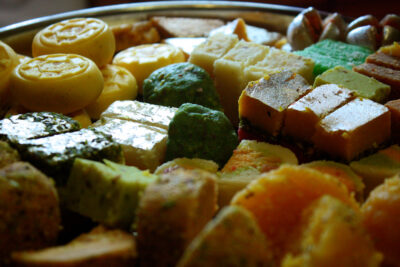 Hindus observe Diwali by cleaning and beautifying their homes, illuminating their homes with lamps, wearing new clothes, and exchanging sweets and other gifts.
For some Hindu communities, Diwali marks the beginning of their new year Diwali. The festival of Lights follows shortly after Dasara.
This is a five-day festival, when Hindus worship Lakshmi, the goddess of wealth and beauty. It also celebrates the triumphant return of Rama, accompanied by his wife Sita, to his hometown of Ayodhya.
Navaratri & Dasara Honour the three Goddesses 1st to 10th day of Ashwin (October).
In the North, Rama Lila recitations and music recall the life of Rama.
Makara Sankranthi (Northward Journey of the Sun)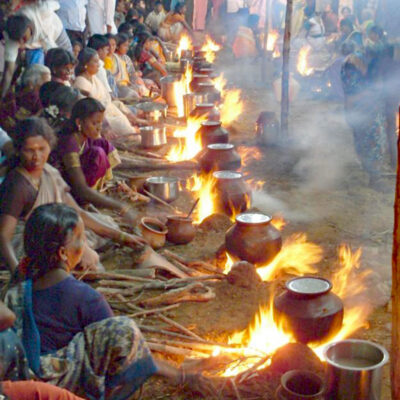 It is celebrated on January 14th every year. The festival marks the Sun's northward journey (Uttaraayan).
In Sanskrit language, 'Kranti' means change and 'Sankranti' means good change. 
This day is observed as the most auspicious day by the Hindus all over the world.
In south India it is celebrated as Pongal.
In Punjab it is celebrated as Lohri.
Til seeds (sesame seeds) and jaggery (concentrated product of cane juice) are given as gifts (prasad) everywhere.
The Til represents each one of us and sugarcane signifies the bond of sweetness (love and tender feelings) that holds us as a community.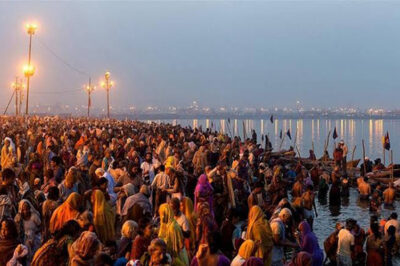 Makar Sakranti is also celebrated with great enthusiasm as the Kite flying day, especially in Gujarat.
Daanam (charity) on this day is a duty.
Shivaratri (Honour Lord Shiva)
A festival dedicated to the worship of the great god Shiva. Shiva worshippers observe a fast to mark Shivaratri and stay awake overnight to pray to Shiva. (January-February).
Maha Shivarathri Honour Lord Shiva: Maha means Great Being. Shiva means auspicious, "In whom the universe sleeps." Ratri means night.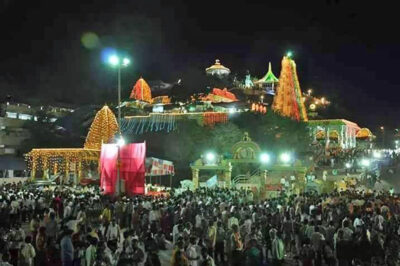 Maha Shivratri is a special night in honour of Lord Shiva. 14th day of second half of Magha (February/ March). This festival is dedicated to the Hindu deity Lord Shiva. People fast the whole day and stay awake the whole night, singing praises of the Lord.
One very popular story traces the origin of this festival to the churning of the Ocean of Milk by Devas (gods) and Asuras (wicked). It is said that during the churn (to obtain nectar — water of immortal life), they came across many unusual substances, including the deadly poison that threatened to envelope the entire universe by darkness.
When the Lord Shiva was requested to save the creation, Shiva swallowed the poison without spilling a single drop. The poison left a dark blue mark on Shiva's throat.
The gods praised and worshipped Shiva for saving the universe.
Ganesha Chaturthi (Honour Lord Ganesha)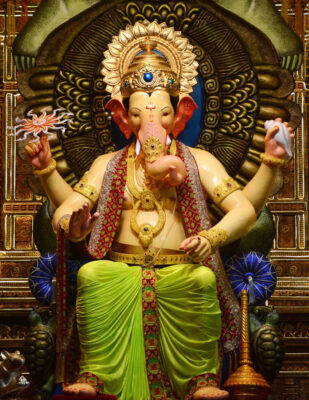 The 4th day of Badrapadha month (September) Ganesha Chaturthi is celebrated in the honour of Lord Ganesha.
Preparations begin months in advance. Murtis (statues) of Sri Ganesh are constructed and placed within homes and places of assembly. Elaborate arrangements made for lighting and decoration. Sri Ganesha is worshipped for about 7-10 days. On the day final day, thousands of processions converge on the beaches to immerse the lovingly crafted murtis (statues) in the sea.
This immersion is accompanied by drum beats, devotional songs and dancing. Gajanan (GAJA) means elephant faced (another name of Ganesha).
GA indicates gati (final goal towards which the entire creation is moving, knowingly or unknowingly) JA stands for janma (birth or origin).
Hence GAJA signifies Supreme from whom worlds have come out and towards whom they are progressing, to be ultimately dissolved in Him. Creation has a twofold manifestation, as the microcosm (sukshmanda) and the macrocosm (brahmanda). The elephant head stands for the macrocosm (representing vastness or bigness), and the human body for the microcosm. The two form one unit.
Clooney, F.X. (2005). Hindu wisdom for all Gods children. Eugene, Or.: Wipf & Stock.
Farquhar, J.N., Griffith, R.T., Müller, F.M., & Arnold, E. (2009). The golden book of Hinduism: the survey of Hinduism. New Delhi: Lotus Press.
Goodall, D., & Zaehner, R.C. (2005). Hindu scriptures. London: Penguin Press.
Kishore, P., & Ganpati, A.K. (2003). India: an illustrated history. New York: Hippocrene Books.
Lipner, J. (2010). Hindus: their religious beliefs and practices. Abingdon: Routledge.
Thomas, T., & Weightman, S.C. (1983). Introduction to Hinduism: personal and cultural education at the Open University. Milton Keynes: Open University Press.
Notes
[1] Source: Top 10 Most Worshiped Hindu Gods in India
[2] Source: Colours for Holi on sale at a market in Mysore — photo by Kamalakanta777
[3] Source: Holi Bonfire at Shri Ram Chowk, I.P Extension, Delhi — photo by Banswalhemant
[4] Source: Traditional festive food shared on Krishna Janmashtami — photo Bhavana Homecook
[5] Source: Dahi Handi, a Janmashtami tradition, in progress in Mumbai India — photo by AKS.9955
[6] Source: Rama and Hanuman fighting Ravana, an album painting on paper, Tanjore or Trichinopoly, Tamil Nadu, India, c. 1820. British Museum Collection
[7] Source: Mysore Dasara procession — photo by Kalyan Kumar
[8] Source: Durga Puja, also called Durgotsava, is a festival that reveres the goddess Durga — photo by Subhrajyoti07
[9] Source: Rangoli, decorations made from colored powder, is popular during Diwali — photo by Subharnab Majumdar
[10] Source: Typical sweets of Diwali — photo by Robert Sharp
[11] Source: Pongal during "MupPoosai" at Singalanda Puram — photo by Thiagupillai
[12] Source: Holy dip by devotees in river Ganga on occasion of Makar Sankranti — photo by Abhay12253
[13] Source: Maha Shivaratri is observed at night, usually in lighted temples or specially prepared prabha (above) — photo by Pavuluri satishbabu 123
[14] Source: Ganesh chaturthi — photo by Nate Powell