Demet Temel
Translation and Editorial Revision: Greg Suffanti
I was working in Şırnak in 2010 and it was my second year of teaching. I had gone to my hometown for a 10-day holiday and when I came back I realized that I missed the children during the holiday, so I went back to work excited to see them again. I felt that they had missed me too.
We were spending this first lesson chatting and I was asking what everyone had been doing during the holidays and how many candies they had collected. It wasn't long before I noticed something special in the middle of the lesson. Yusuf was a student who was always fidgety, couldn't sit still. Yusef, a candidate for the top three on the list of the most naughty people in the class, was sitting quietly that day. It was as if he was in no mood to do anything.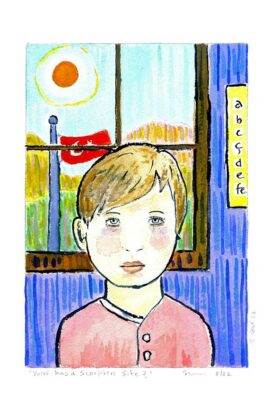 A Scorpion bite …?
When I got a little closer to him, the bruises under his eyes caught my attention. As I got even closer, I put my hand on his forehead and discovered it was burning like fire. Then I touched his neck and arms, which were like fire too.
I asked him what was wrong,
And he said weakly, pointing to his leg,
"Dupishk".
It was one of the few Kurmanji words I knew. It means 'Scorpion'. I looked at the place where Yusuf was pointing to and I saw a huge wound just above his ankle. I had never seen such a wound as this before: it was very different, like a hole in the middle as if a bullet had entered it, with a red swelling around the edges of the hole. I couldn't comment much because I had not seen a scorpion wound before.
The pictures we looked at on the internet were not very similar, but when I looked at the effects of a scorpion sting, it said high fever and chills. That part was true, and matched Yusef's symptoms. We felt sure it was a scorpion bite, and now it was time to find a vehicle to take the boy to the doctor.
To Yusuf's Family in the Village
The village was about 2 hours away from the city and the roads were close to the edges of cliffs. The village was connected to the city by village bus, and every day, one or two buses would leave from the village in the morning and return in the evening. The morning bus was already gone …
Since I started living in the village, the people there have become more friendly to me. I asked a villager with a vehicle to take the boy to a doctor.
We called Yusuf's mother to school and I was very angry at her for not seeing this situation.
Yusef's mother had fifteen children, and it is difficult to look after all of them, but still, this cannot be an excuse. Even though these thoughts swirled in my head, I did not reveal them to the woman. I told myself now is not the time and did not brooch the subject. I couldn't go to the hospital because I needed to stay with my other students. Yusuf and his mother went to the hospital. First, it was thought that the wound was a 'scorpion sting', so they said there was no need to take him far, and so they took him to the health centre in the nearest district. Later, the news came that Yusuf was transferred to Siirt.
In the Hospital
The situation worried me a little. Four days had passed since that day, and Yusuf still had not come out of the hospital and we did not receive any news. I was calling every day and talking to his mother, but his mother, with her half-baked Turkish, was saying that Yusuf was fine.
I didn't understand anything else. I think the woman did not understand much of what the doctor said and therefore could not convey it to us. On Friday, I called the hospital in the morning, thinking maybe I could talk to the doctors, but there were no doctors on duty. I spoke to one of the nurses, but he said he could not give information about Yusef over the phone.
He said that I needed to come and talk to the doctor in person.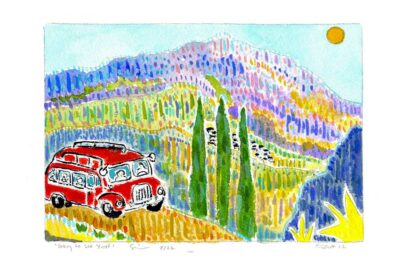 The next day, I decided to go to the hospital in person. Since it was a Saturday, it was a holiday at school and I took the village minibus in the morning and we drove to Siirt along the peaks of the mountains. Two hours later, I reached the hospital and I saw the nurse looking after Yusuf.
I insisted on talking to the nurse and he said that Yusuf's illness was anthrax. I couldn't believe it, it sounded like a serious illness. But I still didn't know anything about anthrax. Then I talked to Yusef's doctor.
"There's nothing definitive yet, we're investigating,"
he said …
I was shocked, I didn't know how to react, and automatically asked,
"Can I see Yusuf?"
Missing Yusuf
Despite all his mischief, I missed him. The nurse did not refuse my request and took me to the room where Yusuf was staying. He was surprised to see me. A smile appeared on his face, but it was a very slight one.
I love these reactions of children, they do not exaggerate their feelings, they live in them.
Yusuf's arms were riddled with holes from his iv's. I looked at the wound above his ankle and it had gotten bigger. It was just like the picture of 'anthrax' I'd seen on the computer. Anyway, I didn't react so that Yusuf would not be affected. I brought him a set of bed pyjamas and some food which I handed over to the orderly standing next to me.
I saw a pack of tiny milk in the cupboard and I thought maybe there was another visitor. I asked Yusuf,
"Do you drink milk?"
Yusef did not answer. The orderly said,
"He doesn't drink the milk, my teacher, he is hiding it and will take it to his younger siblings."
The girl's words stuck in my throat like a ball. I wished I could bring more. After spending some more time with Yusuf, I left his side.
Anthrax Crisis at School
I don't know how it happened, but when it was Monday, people at school had already heard that Yusuf had anthrax. There was now a complete anthrax crisis at school. Only the principal did not know, and when I told the principal about the incident, he turned pale and his hands began to tremble.
He called the Director of National Education and explained the situation. The whole county was now aware of the incident. A team from the district came and quarantined Yusuf's house. They sprayed all over with cleaning agents etc. A health worker came from Güçlükonak in the evening and informed us about the disease. He shared with us that this disease was not likely to be transmitted by breathing particles, but that it could be transmitted by eating the meat of infected animals. I panicked a little after this news. Why? I'm going to tell you right now.
Yusuf and his family lived right next to my house. And lately, Yusuf's mother was often cooking meat dishes and sending me a plate which I ate happily. When the experts came to the village and did tests on the family's animals, we learned that the animals had been dying of anthrax for a while. They had offered me these meats many times.
Infected Meat …
Health workers and others from the county thanked me for uncovering the incident and preventing its further spread. But I couldn't tell anyone that I had eaten the infected meat, and for a while I lived in fear of getting anthrax myself.
A week had passed, and the effect of the anthrax crisis had lessened a little. The anthrax was not found in anyone other than Yusuf. Later, Yusuf's grandmother passed away, and since there was no one to stay with Yusuf in the hospital, they rushed the boy out of the hospital and brought him home.
Will Yusuf stay at home while everyone is coming to school? He has come to the school, but everyone at the school is aware of the situation now and the school principal and the other teachers do not want Yusuf at the school.
I felt in-between and I did not know how to explain the situation to Yusuf when he showed up at school one day. Yusef insisted on coming to school and was looking me in the eyes, as if to say, please take me to the classroom. I took Yusuf to a class, but this time, I was afraid he would pass his illness on to other children. I took Yusuf to a quiet part of the school during recess. I didn't want anyone to hear him, so as not to hurt him.
"Look, Yusuf, my intention is not to offend you. I love you very much. You are a little sick right now and you have to go to Siirt. You need to continue your unfinished treatment. Let this wound heal, then come back to school, okay?"
Yusuf said,
"Okay, I'm going home, teacher,"
and he left. But the next day he came again. His family would not take the child to the hospital because there were condolences at home. And it was not clear how long the condolences would last.
Guards at the Gate
I did not accept Yusuf in class. I was very sorry, but I had to do this. Yusuf was waiting in the school garden, he did not go home. He wanted to go in, but the guards at the gate did not allow it as the principal had informed them in advance not to let Yusuf in.
I was lecturing, but my thoughts were on Yusuf. That day somehow passed, and finally the last lesson came. While I was dealing with the problems of other children, Yusuf was out of my mind. Then there was a shout from the hallway, and I heard one of the school's rude teachers shouting loudly to a boy:
"Sick thing why do you come to school? Everyone will get sick because of you, I won't see you at school again,"
he was shouting to Yusuf in front of the whole school.
At that moment, I went out and saw Yusuf being scolded in front of all his friends. I was so angry. While I was trying to explain nicely to the teacher so as not to offend him, he was shouting loud and clear to the child that he should not come to school.
I got angry and yelled at him and I said,
"You shouldn't talk to a child like that!"
And the shouting continued between us. Two teachers were shouting at each other in front of the whole school. It was a bad sight. He did not expect this reaction from me. While I was shouting at him, I was walking towards Yusuf, to get to his heart. The teacher was still calling after me and said,
"You already love the villager more than us."
Finally …
I was going after Yusef to console him. He was running towards his house, and I followed him with fast steps, but I could not catch up.
After school, I went home. While I was thinking about why these people are so sad and angry, my doorbell rang. It was Yusuf's father. I yelled at him too. I said,
"Why don't you take this child to the hospital? If you don't take this child to the hospital tomorrow morning, I won't look at you again."
And I closed the door as I said that, tears welling in my eyes.
The next day, the father took Yusef to the hospital.
And Yusef eventually recovered and returned happily to school.