Kofi Dorvlo
Ewe people story from the Volta region in Ghana, Wijsheidsweb, September 6, 2019
Senior Cat, the highest in rank in his clan, was very callous to the mice in the forest where they all lived. He was so cruel that he on so many occasions killed the mice not because he was hungry but only to show his prowess.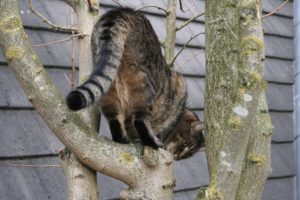 One day, his mother was seriously sick. All attempts by medicine men to cure her did not yield any positive results. The mother of the cat passed on to the ancestors.
This was a painful catastrophe to Senior Cat and the immediate family. She was the one who offers advice to them when important matters in the village confront them.
The elders of the cat family assembled to plan a suitable funeral as custom demanded. When the arrangement for a choir of singers to entertain guests of mourners was proposed, it became evident that the only group available in the village was the choir of mice who were capable of entertaining the mourners to keep their sorrows at bay.
Even though this was welcome news, it was a puzzle because Senior Cat, the bereaved, was in particular very cruel to the mice. It was decided that the mice would accept the invitation only if it became palpably clear to the mice that Senior Cat had improved upon his relation towards the mice especially on the day of the funeral. They noted that if this was done the choir of mice would put up a good performance.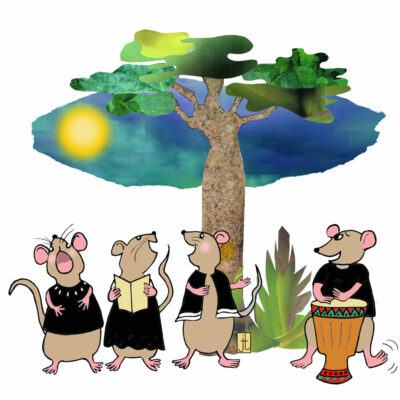 On the day of the burial service, the mice assembled their drums and sang melodiously.
All animals danced on the occasion especially when the tune was given to a song about life after death. The song was so moving that two mice danced around the corpse and moved very close to where Senior Cat and elders were seated and stamped their feet in front of them.
This was considered by Senior Cat as an act of disobedience. He complained to the elders and they told him that these incidents were normal at a funeral especially when a person's mother is dead.
Senior Cat took offence but managed to hide his anger. He planned to avenge after the burial. The mice were able to perceive what Senior Cat had planned. When the tune to the last song was given, the mice kept a reasonable distance. They danced close to the entrance of the building and at the sound of the last verse, they run away.
Senior Cat who was about to exchange greetings with the guests who came to the funeral rushed to give the mice a chase but it was a little late. He failed to pounce on any of the mice who came to the funeral on that day and promised he would on a future day.