Greg Suffanti
Each month Maitreya Instituut, an FPMT center in Amsterdam, the Netherlands, organizes a mantra rolling activity facilitated by Ven. Jan Bijman (Konchog Phuntsok). Students learn about and roll mantras that they can then use to fill their own statues and stupas. Greg Suffanti, a long-time student and Maitreya Instituut volunteer, shares the story.
In 2019 Maitreya Instituut will celebrate its fortieth anniversary, making it one of the oldest Buddhist organizations in the Netherlands. I've been a student and a volunteer at Maitreya Instituut's Amsterdam center for nearly twenty years, and all through the years I've had the pleasure of knowing the very quiet and modest Ven. Jan Bijman.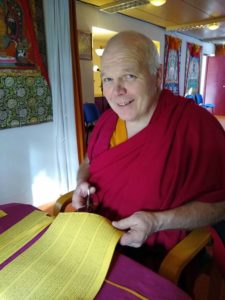 Ven. Jan took refuge with Lama Yeshe in 1982 and took ordination on December 28, 1988. Ven. Jan began rolling mantras back in 1983, when he went to live at the center, then located in Bruchem. Today, Maitreya Instituut has two centers: a large retreat center in Loenen and a small city center in Amsterdam.
"You have to start with a blessing," Ven. Jan said, "which I got from Lama Zopa Rinpoche in Maasbommel, the Netherlands, sometime around 1985-1986. The blessing allows you to do the retreat and the fire puja, at which point you get permission to give the blessing of the mantra rolls."
Ven. Jan was quick to add,
"Geshe Lhundrup first helped me, as well as Geshe Sonam Gyaltsen."
Geshe Sonam Gyaltsen is Maitreya Instituut's resident geshe.
When I asked Ven. Khedrup — who knows Ven. Jan from his years of translating for Geshe Sonam Ngodrup in Holland — to comment about Ven. Jan, Ven. Khedrup immediately replied, "Patient acceptance is what I think of when I think of Ven. Jan. He's not the type of person who seeks the limelight for himself. An example to all. A quiet, steady presence who inspires all with his patience and acceptance."
There are many tasks and rituals involved in the process of filling a statue — from copying the mantras on to paper, which has to be dyed saffron yellow — to carefully cutting out the individual mantras on a single sheet, then rolling each one tightly around a stick of incense, to then bundling the incense in saffron colored cloth.
When I asked Paula de Wijs, Amsterdam center director and Maitreya Instituut co-founder, to comment for this story, she said,
"Mantra rolling is a quiet thing, not spectacular to watch or participate in. But it reflects what it takes to keep a Buddhist center open and on track … persistence, patience, having an idea what you are working towards, doing it all with a good motivation for the benefit of all, knowing that even seemingly small actions can culminate in producing something of great meaning."
Paula continued,
"In Dutch there is a term, monnikenwerk, which literally translates as 'monk's work,' meaning doing something that takes time and patience to do, and that is exactly what mantra rolling is."
We are fortunate at Maitreya Instituut that so many people like Ven. Jan have selflessly given their lives to help keep the two centers alive and thriving for forty years. This is quite remarkable in this day and age.
When I asked Ven. Jan where he gets the inspiration decade after decade to make mantra rolls and fill statues, he said with a big smile,
"The pleasure is the people. When I give a filled statue back, the receiver is always so happy. Their happiness inspires me."