By Greg Suffanti
QFWF no. 7, November
Mantras "bring benefit to all who see, touch, hear or speak them" LZR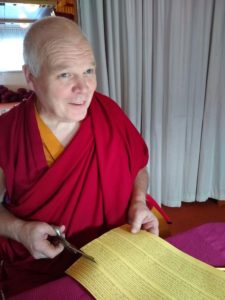 Buddhist schools and traditions vary a good deal in terms of their advice for filling statues (as well as stupas and large tsa-tsas) with items like small tsa-tsas, various substances like gold, gems and precious pills, and of course mantras. Instructions also vary according to the type and size of the object being filled. From the Buddhist perspective, a statue not filled is like "offering nothing to the Buddhas."[1]
All technical examples used in this article were taken from Lama Zopa Rinpoche's (LZR) "Essential Mantras for Holy Objects", which is available for free as a pdf-file through: www.fpmt.org.
But what are mantra rolls anyway? And why are they used in filling statues (and stupas and tsa-tsas)?
"Mantra is energy" Lama Yeshe
Mantras, meaning "mind protection", are Sanskrit syllables that "embody the qualities of the deity which they represent. They bring benefit to all who see, touch, hear or speak them[2]."
In the case of statues, many mantras are individually cut out and then rolled up around a stick of incense, bundled and then placed inside the statue in a specific order, according to the deity being represented. There is power in number, and microfilm is also used, sometimes containing billions of individual mantras. The question with microfilm is whether or not the images of the mantras remain over time. It is important that the image be clear, because the mantra itself has power.
Lama Yeshe says,
"mantra is energy. It is always pure, and cannot be contaminated by negative thought processes. As mantra is not gross energy, it cannot be corrupted the way sensory phenomena are corrupted by our own minds[3]."
 Therefore, as Lama Zopa says,
"creating holy objects with these special mantras inside and making them available to others brings constant, unbelievable benefit to sentient beings[4]."
"The devas will come and worship that statue 3 times a day" LZR
Lama Zopa Rinpoche advises that
"all statues and stupas should contain the Four Dharmakaya Relic mantras and the separate Zung of the Exalted Completely Pure Stainless Light mantra[5]."
The Four Dharmakaya mantras consist of: The Stainless Pinnacle Deity, Secret Relic, Zung of the Completely Pure Stainless Light, and the 100,000 ornaments of Enlightenment. According to Rinpoche,
"these are the highest relics of the Dharmakaya," and "if you have put these mantras inside a statue, the devas will come and worship that statue three times a day[5]."
Additionally, Rinpoche advises people to include a Namgyalma mantra
"as well as the five great mantras of the deities for purification: Kunrig, Namgyalma, Mitrugpa, Stainless Pinnacle, and the Wish-Granting Wheel[6]."
"An Example to all" Ven. Khedrup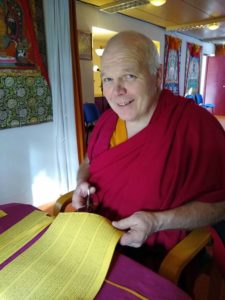 In 2019, Maitreya Instituut the Netherlands will celebrate her 40th anniversary, making it the oldest Buddhist organization in the Netherlands. I've been a student and a volunteer at the institute's Amsterdam center for nearly twenty years, and all through the years I've had the pleasure of knowing the very quiet and modest, Ven. Jan Bijman.
Ven. Jan began rolling mantras back in 1983 when he went to live at the center, then located in Bruchem.
Today, Maitreya Instituut has two centers; a large retreat center in Loenen and a small city center in Amsterdam.
Ven. Jan Bijman took refuge with Lama Yeshe in 1982 and took ordination on the 28th of December 1988.
"You have to start with a blessing", says Ven. Jan, "which I got from Lama Zopa in Maasbommel (NL) sometime around 1985-1986. The blessing allows you to do the retreat, and the fire puja, at which point you get permission to give the blessing of the mantra rolls."
Ven. Jan was quick to add that
"Geshe Llhundrup first helped me as well as (Maitreya's senior lama) Geshe Sonam Gyaltsen."
When I asked Ven. Khedrup, who knows Ven. Jan from his years of translating for Geshe Ngodrup in Holland, to comment about Ven. Jan, he immediately replied:
"Patient acceptance is what I think of when I think of Ven. Jan. He's not the type of person who seeks the limelight for himself. An example to all. A quiet, steady presence who inspires all with his patience and acceptance."
There are many tasks and rituals involved in the process of filling a statue; from copying the mantras on to paper which has to be dyed saffron yellow, to carefully cutting out the hundreds of mantras on a single sheet, then rolling each one tightly around a stick of incense, to then bundling the incense in saffron colored cloth. The rolls have tops and bottoms which have to be kept track of, and there are a total of 27 different mantras for larger statues, including mantras for the head, heart, Dharma protectors, and sutra and tantra mantras. There is a specific order to filling the statues with mantras and other substances depending on the deity, and there are blessings for the materials used, and a final consecration ceremony, called a Rab Na, which has three versions: an abbreviated one which takes 20-30 minutes, a Middle version, taking 2-3 hours, and an Extensive version, which takes three days[7].
Small actions can culminate in producing something of great meaning
When I asked Paula de Wys, Amsterdam center director and Maitreya Instituut co-founder, to comment for this piece she said,
"mantra rolling is a quiet thing, not spectacular to watch or participate in. But it reflects what it takes to keep a Buddhist center open and on track… persistence, patience, having an idea what you are working towards, doing it all with a good motivation for the benefit of all, knowing that even seemingly small actions can culminate in producing something of great meaning.
In Dutch there is a term, 'monnikenwerk', which literally translates as 'monk's work,' meaning doing something that takes time and patience to do, and that is exactly what mantra rolling is."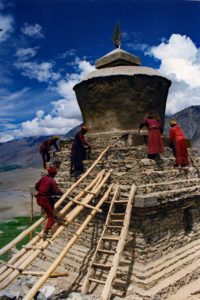 The Tibetan word for sculptor is lha dzawa, which translates as 'the deity maker'.
Buddhist statues are considered 'alive' only after they are correctly filled and blessed during the consecration ritual, at which point they are considered holy objects of great power.
How powerful? Lama Zopa says that even if you circumambulate a stupa filled with these mantras just one time,
"it purifies the negative karma that causes you to be reborn in all the eight hot hells[8]." Further, "you will have a long life," and "like a snake changing its skin, when leaving the body, one will have the fortune to go to the blissful realm (i.e., a pure land) … one will always attain higher rebirth[8]."
That's a very big result from a very small action.
"Their happiness inspires me" Ven. Jan Bijman
Lama Zopa says,
"anyone who has the opportunity to put this mantra inside a stupa or statue is therefore the most fortunate person in the world[8]."
We are fortunate at Maitreya Instituut to have and to have had so many people like Jan, who have selflessly given their lives to help keeping the two centers alive and thriving for 40 years. This is quite remarkable in this day and age.
When I asked Ven. Jan where he gets the inspiration decade after decade to make mantra rolls and fill statues he said with a big smile,
"The pleasure is the people. When I give a filled statue back, the receiver is always so happy. Their happiness inspires me."
Indeed.
Notes
[1] https://fpmt.org/wp-content/uploads/teachers/zopa/advice/pdf/essentialmantrasholyobjectsbkltjune07lttr.pdf, p. 29
[2] https://fpmt.org/education/teachings/texts/mantras
[3] www.lamayeshe.com/article/mantra
[4] https://fpmt.org/wp-content/uploads/teachers/zopa/advice/pdf/essentialmantrasholyobjectsbkltjune07lttr.pdf, p. 17
[5] https://fpmt.org/wp-content/uploads/teachers/zopa/advice/pdf/essentialmantrasholyobjectsbkltjune07lttr.pdf, p. 11.
[6] https://fpmt.org/wp-content/uploads/teachers/zopa/advice/pdf/essentialmantrasholyobjectsbkltjune07lttr.pdf, p. 7, 8
[7] https://fpmt.org/wp-content/uploads/teachers/zopa/advice/pdf/essentialmantrasholyobjectsbkltjune07lttr.pdf, p. 36
[8] https://fpmt.org/wp-content/uploads/teachers/zopa/advice/pdf/essentialmantrasholyobjectsbkltjune07lttr.pdf, p. 13