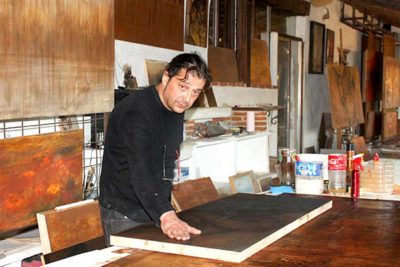 Fernando Ledesma (1963), son of lawyer and poet, José Ledesma Criado.
I Grew up in a house full of art and literature and studied from the age of 6 at the "Escuela de Artes de San Eloy" and then at the "Escuela de Artes y Oficios". Later I studied "Bellas Artes" at the University of Salamanca.
I have devoted my life to painting:
"I want to present these lines and try to show with my being the environment in the painting (…) my hesitant look, because before understanding art, I was always closer to feeling; and that is what I would like to show you. "
I had my first exhibition when I was 19 years old and was influenced greatly by the El Paso group in Spain, the American abstract expressionists, Pollock and Kooning, and the German movement born as "documenta", an exhibition of contemporary art which takes place every five years in Kassel, Germany. It was founded by artist, teacher and curator Arnold Bode in 1955.
I started using a single colour. This was the blue of the boats. Perhaps a sentimental decision because I was told that I had learned to walk at the seaside.
Also, by analysing the work of the master Velazquez, I found studies of a single colour showing up to 150 different treatments of black.
So, like the old school of the sixteenth century I made a blue, drawn from natural pigments. I used it in an interaction with a continuum of white tones, with textures of strong strokes in search of the effect of movement – sometimes like the flight of a bird and in others the cadence and lightness of a flying feather.
"I also did this with the green in the "agonia" series (…).

Urban landscapes are born from the same kitchen, but linked to poetry and nature. The search for the balance between the colour that draws the rust out of the veneer, with my painting, creating a new dialogue. Nature becomes an ally, when the entrails of minerals come from iron, the earth decays. I work, scratch and participate in my pigments and try to make them work. That's what I am now … trying to keep surprising myself and, perhaps, surprising you …"
Wijsheden van Fernando Ledesma