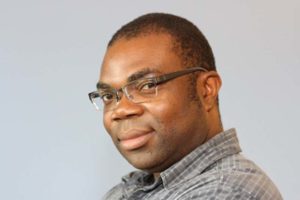 Michael Eze BSc in Political Science is 'lecturer', die op verschillende universiteiten in Europa, Afrika en de V.S. 'liberal arts' heeft gestudeerd en onderwezen, en (vanaf 2017) verbonden is aan de afdeling 'Political Science' aan de Universiteit van Amsterdam.
Hij geeft colleges over 'development politics and state formation in Africa'. Daarbij onderzoekt hij op kritische wijze uitgangspunten in politieke theorieën en vraagt aandacht voor de invloed van externe politieke krachtenvelden en voor het belang van het werken aan goede randvoorwaarden voor ontwikkelingsprocessen.
In interactie met zijn studenten problematiseert hij bijvoorbeeld de vanzelfsprekende stelling dat:
development is inevitably tied to democracy, the rule of law, stability and human flourishing.
Hij vertelt dat in het huidige onderwijs de nadruk teveel ligt op het opleiden tot "employable" afgestudeerden, Hij pleit voor herwaardering van de oude Bildung-gedachte, dat onderwijs niet alleen een middel tot een doel is maar ook een doel in zichzelf!
Hij draagt graag bij het onderwijs weer een menselijk gezicht te geven door middel van een holistische benadering en intellectuele dialoog:
My ultimate goal is to educate the whole person as a free, resolute and capable individual in every circumstance and place — a global citizen.
In die geest zegt hij:
I derive much joy from teaching. Teaching is humanism. From teaching, we not only learn more about ourselves, but we are continually enriched by the embodied gifts of humanity in other people whom we encounter every day — colleagues, students, and so on. Teaching is in this sense strictly a vocation and not a profession.
Wijsheden van Michael Eze